Check out the trailers and equipment we offer
Zavod Kobzarenka is the largest tractor trailer
manufacturer in Ukraine.
---
Their plant produces: 20 types of Trailers, Carts, and Wagons; 5 types of Chaser Bins; 10 types of tanks for water, livestock and plant protection products; 20 types of Augers; Trailers for Moving and Transporting Round Bales; Grain Packing Equipment; Dump Trailers and Buckets; Wood Chip Furnaces and Straw Heaters; Spreaders for Minerals, Fertilizers and Other Materials.
Zavod Kobzarenko was founded in 1993 as a production partner of the German trailer manufacturer Fliegl. The company has been bearing its current name since 2008. The company develops and manufactures primarily agricultural trailers.
More than 40% of the products is exported to Russia, Belarus, Poland, Kazakhstan, Moldova, Romania, Hungary, Lithuania, Slovakia, Finland, Austria, Bulgaria, the Czech Republic, Spain and Equatorial Guinea.
---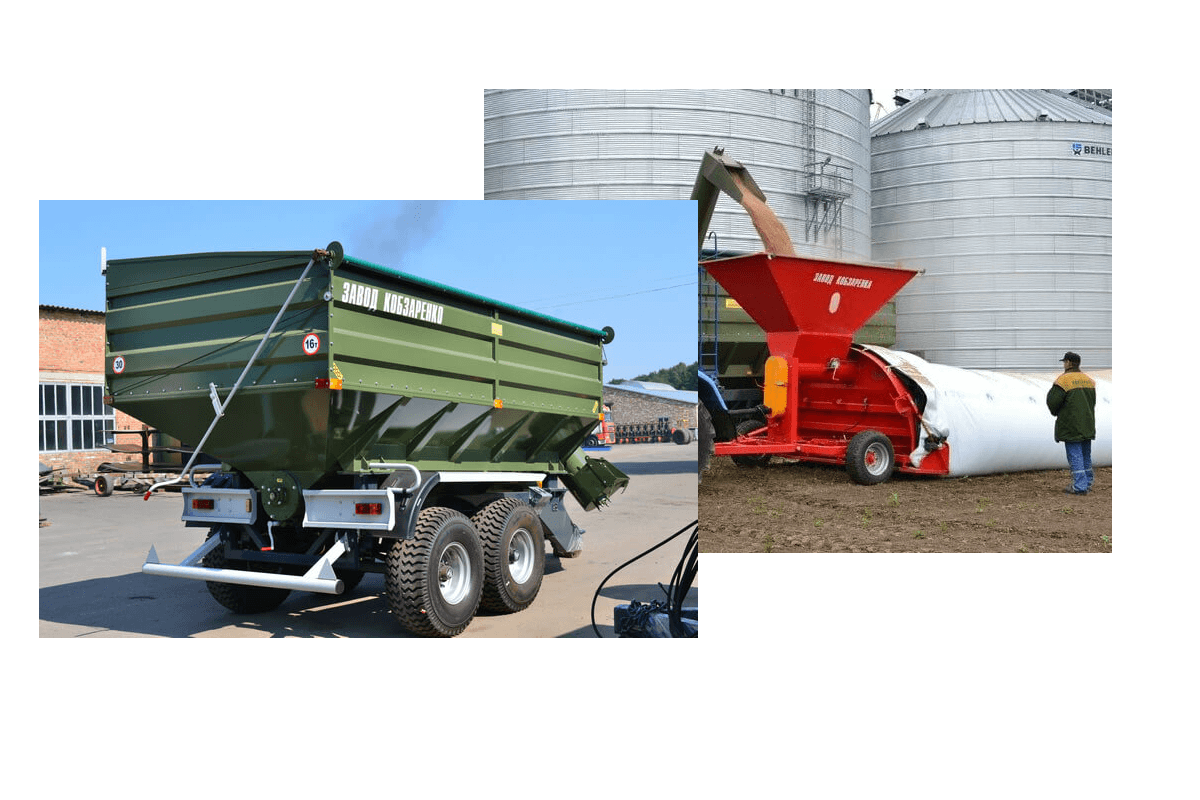 Why buy ZAVOD KOBZARENKO trailers?
1
Multifunctional solutions - one trailer for year-round use
The features of the Atlant universal trailer offered by us can be summarized in one sentence - one trailer for most of the work throughout the year. In case of conventional trailers, it is possible to buy one platform and use different superstructures.
2
Best price-quality ratio
The high-quality steel trailers by Zavod Kobzarenko are sandblasted before powder coating and covered with an epoxy primer, which guarantees longer life expectancy and greater corrosion resistance. Trailers have world-famous accessories and details like ADR axels, Wabco brakes, Scharmuller accessories, Pronar wheels, etc. All this and much more ensures the best available price-quality ratio.
3
Fast delivery and flexible terms
Most trailers are available in the warehouse of the manufacturer's factory, which allows our customers immediate delivery when it is needed the most.
4
Fast and reliable after-sales service
Previous long-term experience selling forest and heavy equipment helps us provide the best solutions. We guarantee competent and reliable after-sales service and fast delivery of spare parts.
Kert Kärbo
+372 552 2755 info[at]takertrailers.ee
Tarmo Kärbo
+372 506 0300 tarmo.karbo[at]gmail.com