Look at the miniloaders and forwarders we offer
Strojírna Novotný s.r.o.
is a machine-engineering company.
---
The company is specialising in the manufacture of weldments, loaders, and forwarders.
The company, established in 1991, has two production plants in the Czech Republic, situated approx. 5 km from each other. The Dubicko plant produces weldments for loaders and additional equipment mainly for the German company Weidemann, partly also for our own production.
The Vitošov plant specialises in the assembly of our own machines. On 1 Jan 2011 the company transformed from a physical entity to a limited liability company.
---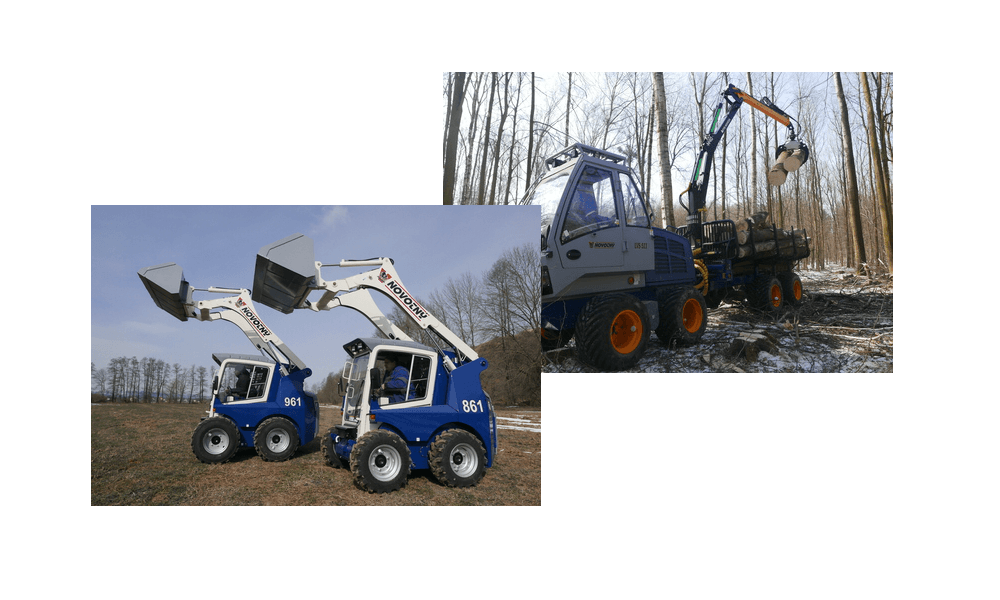 Why buy NOVOTNY equipment?
1
Very good terrain capability
Very good terrain capability and maneuverability. Thanks to the 8x8 wheel drive and lockable articulated joint, the Novotny forwarder can also work in the most challenging terrain.
2
Low pressure on the soil
Thanks to the light weight and compactness of the Novotny forwarders, the pressure on the ground is minimal and evenly distributed. This ensures the preservation of forest vegetation and avoids deep tracks.
3
Highly durable Cummins engines
Clean, efficient, reliable and long-lasting Cummins engines can be found on different machines almost anywhere in the world. Buses, dumpers, cranes, loaders, graders, excavators, locomotives, underground equipment, cogeneration plants, passenger trains, ships, barges, trucks ...
4
Best price-quality ratio
Novotny forwarders use only reliable and durable technological solutions. Fast spare part delivery, maintenance and repair service throughout Estonia, and Novotny's manufacturer-level support ensure the best value for money for our machines.
Kert Kärbo
+372 552 2755 info[at]takertrailers.ee
Tarmo Kärbo
+372 506 0300 tarmo.karbo[at]gmail.com